What can I reuse or recycle to make seedling/plant labels?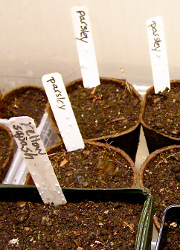 It might still be February but our 2011 growing season is already off and running here.
In addition to the eight fruit trees John planted a couple of weeks ago, I planted out eight fruit bushes at the weekend and I started my first batch of cauliflower, greenhouse tomatoes and lettuce the weekend before last. Following a recommendation from The Cottage Smallholder, I've bought a heated propagator to give my other greenhouse crops – cucumbers, chillis, pepper & tomatoes – a warm start in life — I'm hoping that arrives in the post today so I can get started with them ASAP.
For the first few sowings, I can remember what is where — the lettuce are in the troughs & square pots, the tomatoes in the round ones, the caulis in the fibre ones – but in a few weeks, I won't be able to remember where everything is. And outside, we'll want to know next year (and the year after, and the year after that) which fruit trees & bushes are which variety.
In the past, I've used slices of drinks cans or plastic milk bottles as plant markers – and they work reasonably well if you remember to write on them using a permanent marker (which I didn't do last year – lots of confusion mid-year). I also know other people who use ice lolly sticks (but there has been an unacceptable dearth of those consumed here in the last year) and the like. And some people buy white sticks to use as labels – buy? buy?! not I! ;)
Do you reuse or recycle any packaging or bits of "waste" to label your plants or seedlings? Do you have any suggestions for making long term labels – ones that'll be weather-resistant for at least a few years?
(Photo by normanack)
Related Categories
garden
,
hobbies
,
reverse this
Search for other related items