How can I reduce my use of disposable razors/razor blades?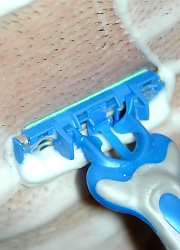 We've kinda touched on this topic before when talking about reusing and recycling disposable razors but that was a long time ago and I thought it might be worth bringing it up again.
As when we were talking about it in 2007, I still use disposable razors occasionally – perhaps one a month since I'm still not particularly hairy or bothered, and use a rechargable electric razor for my legs. In the grand scale of things, it's not exactly a lot of waste but it still bugs me to use anything that's designed to be disposable.
(The electric one obviously uses power but other than that, they last a good while – the batteries on my rechargable ones tend to die every 3/4 years, but John's got a mains powered one that will last years and years – his dad's has been going for 20+ years apparently.)
On the old post, some people said they'd given up disposable razors (or more commonly disposable razor blades attached to a reusable handle) in favour of a traditional straight razor (aka cut-throat razor) – and they've never looked back. However, they're only good for smooth/tight skin – not very useful for armpits, or the back of legs.
So what are the other options? What do you do?
Related Categories
bathroom
,
reduce this
Search for other related items