Seven fantastic ways to transform rubbish into storage
I don't know about you but I'm itching to get a start on spring cleaning this year – or rather spring decluttering – and as well as getting rid of a whole bunch of stuff, I'd like to have better, neater storage for the stuff I have.
Here are some of the ways I'll be making recycled storage solutions from rubbish around our home:
Cereal boxes (or scrap cardboard) into magazine files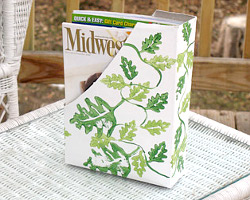 We have approximately eleventy-hundred tons of paper in the house at the moment – even if half can be thrown away, that's a whole lot of stuff that needs filing.
Cereal boxes make quick and easy magazine holders – for magazines, notebooks or just papers. Paint them or cover them with pretty paper (or newspaper for a more modern look) to coordinate with your decor/hide your addiction to Coco Puffs.
If you need them to be a bit sturdier, it's also easy to make your own magazine files from scratch from any scrap cardboard.
Wall mounted storage cans
Lee Meredith turned some coffee cans into fun wall mounted yarn storage – and the same principle can be applied to any cans. They can also attached in the same way but mounted vertically to store other things – like pens, paintbrushes or kitchen utensils.
(I just showed my boyfriend John's Lee's yarn pics and he said "phwarr!" and pointed out that if you attached the cans to the walls with stronger screws, you could use them as fun and functional brackets for shelves.)
Storage boxes made from old magazines or newspaper
Old magazines or newspaper can be transformed into storage in a number of different ways – layered up to make mini-hat boxes, coiled into open bowls, or woven into a useful open box for storing … more newspapers.

Upcycled stackable boxes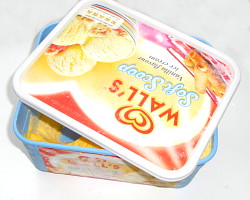 A basic reuse but a goody!
The bits of our lives which are already sorted involve ice cream boxes or shoe boxes – packaging that's sturdy and regular in shape so easy to stack.
The ice cream boxes – plastic rectangular boxes (either 1ltr or 2ltr tubs) – are mainstay for our random under-the-sink stuff organising — we've got boxes for batteries, for shoe polish, for laundry accessories (stain removers etc) and fuses. The plastic keeps the contents waterproof too. (Large margarine tubs work well too, just ice cream tubs tend to be a bit bigger & sturdier.)
I use a lot of shoe boxes for craft supplies and in the bedroom – my winter hats live in one through the summer, my tights live in another for the 364 days a year when I wear jeans, my odd socks live in another ahead of repairing. They all hide in my wardrobe/drawers but if they were on show, I could easily paint them or cover them with paper.
Ladders for shelves
Old ladders – ones that are a little knackered so not safe enough for climbing – make great shabby chic shelves.
You can hang then vertically as a towel rack or you can use them with some other scrap wood to make a bookshelf. Or you can hang them horizontally for longer knick knack shelves.
Milk bottles for pencils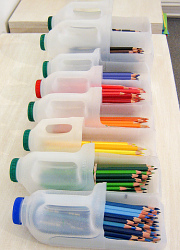 I've featured these before but I still love the idea if you've got a lot of pencils, pens or that sort of thing – use plastic milk bottles to make grabbable storage boxes.
Hanging hooks from old cutlery and toys
I love hooks – they let us get our junk up out of the way – but there is no reason why they have to be boring.
How about some very cool coat racks using old cutlery for the hooks (or just stand alone hooks with the same principle)?
Or perhaps you'd prefer fun but creepy using old doll parts?
Old pipes into pan racks
Staying with the hanging theme, use old piping to make a feature wall-mounted pan rack – or just a hanging-anything rack really.
(Amy of My Suburban Homestead used a similar principle – albeit with new piping – to make a ceiling mounted pot rack too.)
Do you have any other great upcycling suggestions we should add?
Related Categories
5 fantastic reuses
,
household
Search for other related items