How can I reuse or recycle trade-size ice cream tubs?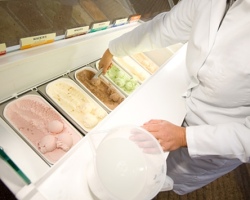 The other day, John and I were hanging around a dumpster at the back of an ice cream parlour — as you do — and spotted it was full of 5ltr plastic ice cream tubs.
In our house, ice cream tubs are one of our favourite plastics to reuse – rectangular 1ltr square tubs are just the right size of storing leftovers and the 2ltr ones are useful for other storage stuff (three current reuses: we've got one for chicken scraps in the kitchen, I've got unplanted seeds in another and a third & fourth are used for batteries – one for new batteries, the other for batteries heading to recycling) – and they're usually made from reasonably commonly recyclable types of plastic – the ones I've got here are Polypropylene, resin code 5. To be honest, I was quite surprised that this ice cream parlour didn't have a recycling scheme in place since it surely generated a fair number every day.
Next time we're in the environs, I'm tempted to ask if I can have a dozen or so to reuse. They were about 30cm (1ft) or so long, about 15cm/6″ tall and the same wide. I've got loads of office and craft stuff that need to be stored better and a row of those on a shelf might be a neat way to do it.
They'd also work on the thin counter in our porch as planters for growing salad etc – although I am trying to move away from growing stuff in plastic. Storage and planters – my reuse ideas for just about everything at the moment, which I think gives a rather telling glance into our life ;)
What about other reuses?
Related Categories
business
,
household
,
items
,
packaging
Search for other related items