Transforming old clothes into new clothes and other items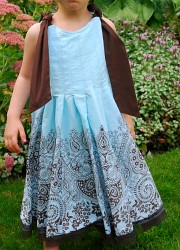 Amy Quarry dropped us an email this week with a link to her blog post on ten ways to repurposing old clothes, reusing as much of the original structure/shape as possible to save time.
Half the list take big clothes and turn them into little clothes: for example, with some pleating around the top and some arm holes chopped in the sides, an adult size skirt can quickly become a child's dress (right). Or shrinking a woman's blouse widthwise to make a baby/child's dress. All very cute.
For those of us without small people (and/or willing cats) to dress, she includes ideas such as making a mini-skirt into a bag and sundresses into aprons (below).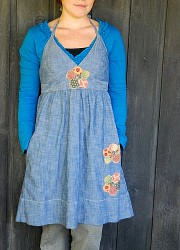 I love these ideas because I've got quite a few items of clothing that I love but either which don't fit any more or don't suit me as they are any more – but could easily be repurposed like this. Time to unleash the sewing machine!
(Pictures with permission from Amy's blog)
Related Categories
art & crafts using recycled stuff
,
clothes and fabric
Search for other related items