How can I reuse or recycle wine gift bags?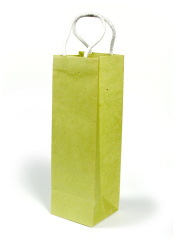 We've covered reuses for old gift bags in general before but Meri emailed asking about one particular type:
I have a growing collection of wine bags – mostly paper – that are too nice to toss.

How can I recycle them – get them to people who might reuse them?
Most people I know reuse wine bags (and all gift bags) as many times as they can while they're still in good enough condition to pass on. There is a bit of a tradition in my family to leave gift tags bare or written using a soft pencil to facilitate multiple uses.
If you'd rather not re-uses them yourself and have a number to give away, offer them on your local Freecycle/Freegle list. Scrap stores would probably welcome them with open arms too, as would organisers of local charity events like tombola or raffles, to make the prizes fancier/more mysterious.
Any other suggestions on where to pass them on? And what about reuses for the tall thin gift bags like these?
Related Categories
Christmas
,
items
,
packaging
,
paper & stationery
,
Valentines
Search for other related items