What Scott Bedford made reusing & recycling stuff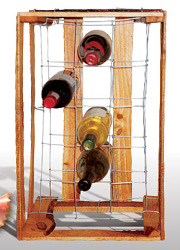 Scott Bedford from the wonderfully designed What I Made.com got in touch to tell us about some of the great reusing/recycling projects he's done over the last few years.
He's made a strangely beautiful candle holder out of an old motorbike exhaust, an edgy planter out of a deliberately mangled paint can, a Heath Robinson-esque candle holder/timer out of wire and old bricks and a wine rack from an old wooden veg box (pictured).
Wonderfully inventive stuff, very different from a lot of the stuff we usually see – and all reusing & recycling old stuff, hurrah!
Related Categories
art & crafts using recycled stuff
Search for other related items