What's the greenest contraception method?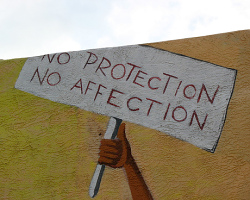 In honour of International Women's Day at the start of the week, we've had a week of women's & sexual health themed posts and giveaways. Up until now, they've been more focused on the wonderful range of green sanitary options available but I wanted to shift things on a bit today.
I've been thinking about the topic for today for a while – I've just never had the time to do all the research on the area I'd planned so I thought I'd open it up for discussion instead.
It's an inflammatory statement that annoys a lot of people but it's true – one of the worst things you can for the environment as an individual (well, two individuals) is have a child. Even if you do everything you possibly can to minimise their consumption and waste, the child still going to use up a helluva lot of the world's resources in their lifetime. That's not necessarily a reason not to have a child – but it's a reason to be careful to make sure you don't have them by mistake.
So what's the best contraception as far as the environment is concerned?

Aside from permanent things like sterilisation or things with a high-failure rate/large will-power investment (such as fertility awareness, coitus interruptus, or abstinence), there are two basic categories for contraception – barrier type things and hormone-based ones – with some other odd things on the side.
Condoms are great in many ways – cheap, easily obtainable, easy to use and protect against STIs – but they're also disposable – often down toilets (!) so quickly end up clogging the sewerage system/beaches. Properly disposed ones will add to landfill instead. Ditto contraceptive sponges.
Diaphragms are more reusable but they lead to an increased risk of urinary tract infections and to a lesser extent, toxic shock syndrome. They need to be used exactly as instructed too, else failure rates are high – up to 40% in the first year and even perfect use as a 6% failure rate (compared to 2% for condoms and 0.3% for the pill).
Hormonal methods – the pill, patches, rings, injections, implants – don't create much day-to-day waste but release synthetic hormones into the environment which is becoming a significant problem. For a lot of greenies, there is also the worry about what said chemicals are doing to you personally too.
In addition to those broad categories, there are also two types of coil – intrauterine devices (IUDs). The first kind, the inert copper kind (Paragard in the US, just known as IUDs in the UK), are probably the best contraceptive method from the green point of view – they last 5-12 years (depending on the make) and don't directly produce any waste during that time. But they do increase menstrual blood loss by 20–50% which is unacceptable to many (and will produce a lot more waste if the woman is using disposable sanitary items) and they don't protect against STIs so are only suitable for people in long-term monogamous relationships.
The other kind of IUD, known as the IUS in the UK and by the brand name Mirena in the US, is similarly long-term but slowly releases a hormone (progestin) into the body too. It's a much smaller amount than in other hormonal methods but still, it messes up the environment when it's peed out. Like the IUD, it doesn't protect against STIs and like other hormonal methods, it can have annoying side effects like weight gain, spots, mood swings etc – but it is does typically drastically reduce periods, with many women reporting they've stopped altogether — and from a green point of view, that'll reduce waste by a lot.
So what do you think the best option is? What do you use/what would you like to use? Is there anything I've missed from this recap? I'd love to hear your thoughts.
(Ace CC-A photo by teofilo)
Related Categories
items
Search for other related items