How can I reuse or recycle broken teapots?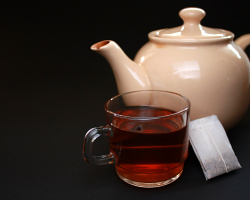 We've had an email from Hester, asking:
what can I do with a teapot with a broken spout?
You could give gluing it back together a go — it's not quite as much of a safety worry as say, gluing a broken handle back onto a cup/mug but there is still the risk of scalding if it comes off again at an inopportune moment.
So other less hazardous suggestions? Almost needless to say, teapots make very fun plant pots or utensil/pen pots. Depending how much of the spout remains, you could use it as an indoor watercan too.
The china/pottery from completely broken teapots can be used for drainage at the bottom of plantpots – although if the lid is intact and you're buying another similar size teapot to replace it, keep the lid as a mix-match spare.
Any other suggestions?
Related Categories
household
,
items
,
kitchen
Search for other related items