How can I reuse or recycle rubber thimbles?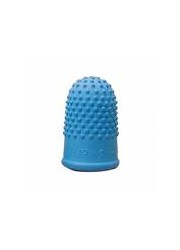 We've had an email from Sara:
I am in charge of stationery orders at work, and I have recently been asked to order "rubber thimbles" because we have worn them out. So I looked at all these little rubber thimbles, and thought, do these all have to go to waste? Other than being jaunty little hats for stuffed toys around the office, what else can I do with these things?

Everyone has agreed before I order new ones we have to think of something to do with the current ones!
Hehe, I like the jaunty hat idea – I also love that your colleagues have agreed to holding off on reordering new things until the old ones have been dealt with.
Rubber can be recycled but I don't know if m/any recycling companies would be interested in such small items. Anyone know?
And any other suggestions?
Related Categories
household
,
items
,
office
Search for other related items