How can I reduce the amount of cleaning products I use?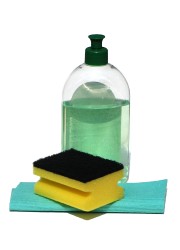 Another of Alice's "Reduce This" questions is about cleaning products:
How to reduce the amount of cleaning fluids I use, especially the ones which damage the environment the most? See my blog for an idea for free limescale remover…
Whenever I talk to anyone about this sort of thing, I always make a joke about how we're being green (as opposed to just lazy) when we don't keep our house all shiny and polished but there is some truth in it – a lot of people use a lot of chemicals to keep their house a lot "cleaner" than it really needs to be. (I've put cleaner in inverted commas because filling your house with harsh chemicals isn't really health-clean either.)
My friend Katherine swears by E-Cloths and we use a lot of vinegar, soda crystals and borax here.
What do you use? Got any techniques to help cut down the amount of stuff you do use?
Related Categories
household
,
reduce this
Search for other related items