How can I reuse or recycle hot water bottle stoppers?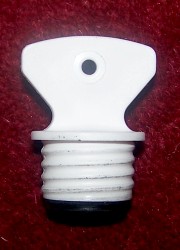 We've had another email from Lesley:
When I replace worn out hot water bottles, before throwing them out, I always remove and save the stoppers as spares. (I don't know why really – it's just something my mother always used to do!). Now I've discovered that some of the stoppers are no good as bottles now have wider tops requiring wider stoppers. Has anyone got any ideas for using the old ones?
They look like one of those things that, one day, will be the answer to one's DIY prayers – something I'd run about holding aloft and ever grateful for the day I thought to put the orphaned stopper in our random stuff drawer. I don't know what need it would be filling (stoppering up a water butt's tap or a narrow necked container?) but wow, it would fit it perfectly.
Any suggestions for what they could be used for?
Related Categories
household
,
items
Search for other related items