How can I reuse or recycle children's drawings and paintings?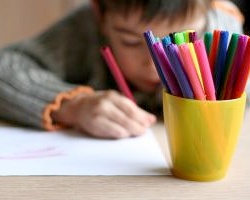 The Eternal*Voyageur is back again, asking:
Any ideas on how to reuse children's drawings ? My daughter brings a bunch of them from pre-school every day. I don't have the heart to throw them away, and I can display only so many!
I feel the same way about anything we make/draw/paint too – and we're nowhere near as precious as children :)
If they can't be displayed but you'd like to keep them, how about making them into books? A hole punch (and maybe some of those reinforcer stickers), some pretty string and maybe some old cardboard decorated for covers would do for the most basic version. Keeping every picture is still going to leave you with a hefty pile but at least they'll be easier to store – and easier to enjoy in the future.
Anyone else got other storage or reuse ideas?
Related Categories
hobbies
,
items
,
paper & stationery
Search for other related items