How can I reuse or recycle old laminated posters?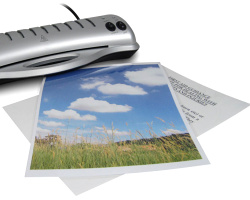 We've had a message on our Suggestions page from Ruti (who, incidentallty, have left hundreds of useful ideas all over the site over the last few days – thanks Ruti!):
What to do with laminated signs? I work in a 6th form College and various signs etc. are produced as A3 or A4 and laminated. However, eventually some details become out of date.

What could I do with these? there are only so many placemats / craft messy mats anyone could need!
For some reason, I can't think of anything other than using white ones to make snowflake decorations – but the end of January is possibly a bit late for that type of thing.
So any other suggestions?
Related Categories
items
,
office
,
paper & stationery
Search for other related items