New site launched: Things To Do Today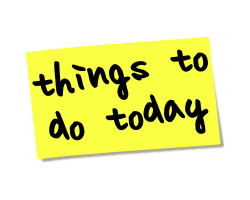 It's been a while since we launched a new website and it's happening a bit later than planned (because I've been doing last minute tweaks but mostly have been asleep ;) ) but here it is…. Things To Do Today!
Every day, Monday to Friday, we'll give you four Things To Do Today – perhaps a recipe for some yummy biscuits, a beautiful video to watch, an interesting article to read or just a helpful reminder about something you could, or should, do.
The emphasis is on doing and making positive things instead of just consuming stuff and wasting time.
Obviously you don't have to do all that stuff but if, like me, you sometimes need a bit of inspiration about what to have for tea or what your next fun craft project is, the site will hopefully provide you with a wealth of ideas.
Suggestions are, of course, welcome – contact details are on the site.
Hope you like it,
-louisa & john :)
P.S. Happy New Year and all that jazz too ;)
Related Categories
news
Search for other related items