How can I reuse or recycle out of date bandages?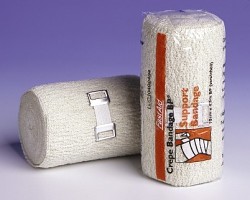 We've had an email from Helen:
Hi, I cleared out my work's first aid kit this morning and found all the bandages are out of date (no longer guaranteed sterile). We're replacing them for safety reasons but I wondered what we could do with the old ones since they're still in their packages just no longer sterile.
If it was at home, I'd be tempted to keep them around for times when sterility isn't an issue (for example, just providing support to a sprain or something) but I can understand in the workplace, where numerous people might be using the kit, that might cause confusion and problems later on.
I remember using a number of different shaped bandages when I did my first aider training – I wonder if there are any groups that could use them for that purpose (am I right in thinking Scouts/Guides do some basic first aid training? Could they use them?).
As for a sillier idea, someone could use them to make an awesome mummy costume next Halloween.
Any other suggestions? Is re-sterilising them a possibility (at an industrial level if not a household one)?
Related Categories
clothes and fabric
,
household
,
items
Search for other related items