How can I get my office or school to recycle more?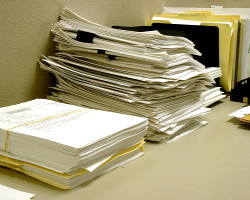 We're having a bit of a themed week here on Recycle This, focusing on stationery and since stationery items are most frequently used in offices or schools, I thought it might be fitting to have a discussion on ways and ideas to help get organisations to recycle more.
Although I was inspired by the stationery stuff, I'm not just thinking stationery really – but also excess manufacturing materials. Or packaging for food in canteens/staff rooms.
Have you set up, or helped set up, a recycling scheme in your place of work or school?
What works? What doesn't?
What do you think is most important when setting up a scheme? Should you start small (perhaps focusing on doing one thing) and build up or go straight into recycling everything all the time?
What are the best things to say to management/teachers to get them onboard? What about getting colleagues/classmates motivated too?
Any ideas, suggestions or comments would be very useful.
(Photo by budesigns)
Related Categories
items
,
office
,
paper & stationery
,
reverse this
Search for other related items