How can I reuse or recycle rubbish pencil erasers?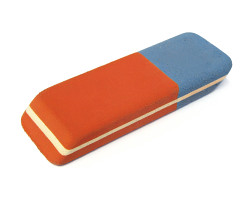 We've had an email from Sophie:
I bought a big bag of rubbers at the start of school but they were hard and rubbish so I turned them into stamps instead! I drew a design on them then cut it out with an art knife and they work great.
I remember doing something similar with them when I was at school – although it was less artistic/planned and more just me being bored with an compass in French. Another at-school reuse was, of course, flinging them across the classroom and watching them bounce off the walls/desks. I, of course, never did that, ahem.
If you buy a pack of mixed ones, there always seems to be a couple of really hard ones that don't work very well in there. Aside from the stamps and airbourne weaponry, are there any other reuses for erasers that won't erase?
Related Categories
household
,
items
,
office
,
paper & stationery
Search for other related items