How can I reuse or recycle pumpkins?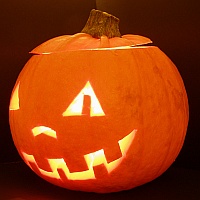 A bit of an obvious one considering the date.
So presumably people scooped out the seeds for eating/planting, and made soups or pies or other yummy things from the flesh before carving the skin into a Halloween lantern — but what can be done with the outer casing afterwards?
Obviously it's a firm contender for the compost heap but I wondered if there was anything else it could be used for instead.
A container for growing plants in the greenhouse over winter that can then be planted out in the ground in the spring? Can it be dried into anything fun?
(Photo by cybersnot)
Related Categories
food
,
items
Search for other related items