Green Halloween: How can I reuse or recycle pumpkin seeds?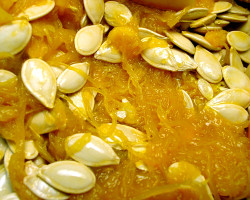 Continuing in our Green Halloween series ahead of the spooky day on Sunday…
If you're carving your own jack-o-lantern this weekend, you'll end up with a whole load of pumpkin seeds.
While there are varieties of pumpkin that both taste pretty good and grow to a lantern-friendly size, most shop-bought pumpkins tend to be grown for one or the other — and ones sold particularly to be lanterns don't tend to be that flavourful at all. The seeds could still be scooped out and roasted – but plan to add spices and other yummy things or drown them in toffee to compensate.
While some growers frown on saving seeds from shop-bought produce (because they are often hybrids so less like to breed true, you don't know what they've been pollinated with and there may be disease risks), it's pretty easy to save pumpkin seeds to grow your own next year (instructions at the bottom of that page).
Other people use the pumpkin seeds for crafty purposes – for example, they make fun beads for chunky jewellery or as mosaic tiles for kids.
Ours, along with any watery, tasteless flesh that's scooped out, will go to our chickens. Other people use them as part of their lantern creations.
Any other suggestions for what to do with pumpkin seeds?
Related Categories
food
,
Halloween
,
items
Search for other related items