How can I reuse or recycle karate belts?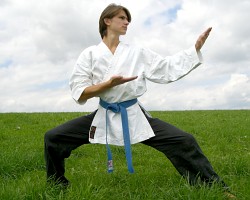 We've had an email from Jacqui:
Any idea what to do with old karate belts? They are around 2m long, very strong and in all different colours. Thanks for any suggestions.
Using them as straps for homemade casual bags springs instantly to mind – but probably only because I was looking for something to serve that purpose last night.
Any other ideas?
(Photo by Sucker)
Related Categories
clothes and fabric
,
hobbies
,
items
,
sports
Search for other related items