How can I reuse or recycle lip balm tubes?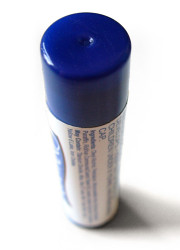 We've had another email from our good friend Am (aka Delusion):
Me again, just wondering how can I recycle / reuse empty lipbalm tubes? I use the twisty lipbalm sticks and admit I use them a lot. I have a stash of small tubes with their lid casings and no ideas on how to re-use them.

I emailed the company that I got them from to ask for any suggestions / ideas on if they could be re-used by the company or recycled and surprise, no response! Anyone else help?
I'm also a bit of a balmaholic, particularly in the winter, and seem to have about a half a dozen sticks on the go at the moment in various bags and pockets around the place. I think I might move onto little pots – since they're been easier to refill/reuse – for some of my balming needs but since I don't always carry a bag, I'll have to stick to tubes for those slip-in-the-pocket moments.
So any suggestions?
Apparently you can use Chapstick ones to hide microphones when you want to take down a president but, personally, I think those wires give it away a bit.
If there are any balm-makers out there, can you tell us if it's possible to make homemade balm solid enough to refill the tubes?
(Photo by asolario)
Related Categories
bathroom
,
household
,
items
,
packaging
Search for other related items