How can I reuse or recycle muffin packaging?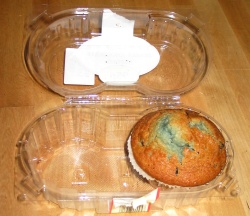 Oh, I hate trying to photograph transparent things but oh how I love muffins. Sweet, sweet muffins with your sugar and your chocolate and your ability to crumble all over my clean white t-shirts (thanks muffin, thaaaaanks).
How I love the way you're there for me in the morning when I want a snack and how well you coordinate with both tea and orange juice (although not both beverages at the same time, bleugh).
But how I hate your packaging: its formed plastic and its inability to photograph well. Boo! Boo!
If only there were some other uses for your packaging so I could enjoy your goodness without feeling green guilty at the same time…
(Today's post brought to you c/o a muffin-induced sugar rush)
Related Categories
items
,
kitchen
,
packaging
Search for other related items