Trash People by HA Schult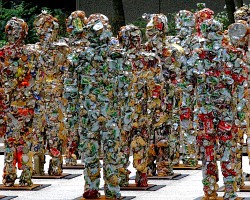 Most of our recycling-stuff-into-art posts so far have been rather crafty so here is something at the more fine art end of the scale.
Despite the exhibition being around for a decade, I've some how managed to miss HA Schult's 'Trash People'.
This army of 1000 figures – made from crushed cans, electronic waste and other rubbish – has stood in public spaces in Rome, Barcelona, Moscow, New York, Paris – and even dotted along the Great Wall of China.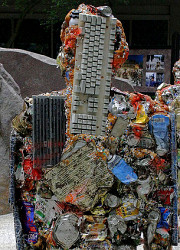 The pictures show you the detail but it takes a video (or the very long shots on Schult's website) to show you the scale – the amount of the figures. The video below shows someone walked around the Cologne, Germany exhibition.
A very cool display – and hopefully one that got people thinking more creatively about their rubbish, or at least thinking about not producing so much.
(Creative Commons Attribution photos from dbking on Flickr – bigger pictures available on there too)
Related Categories
art & crafts using recycled stuff
Search for other related items