How can I reuse or recycle milk bottle tops?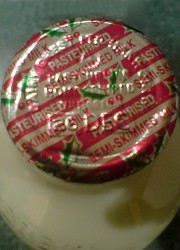 We've had another email from Lyndall, asking:
i was wondering if you knew what i could do with the foil top of milk bottles?
I remember a Blue Peter fundraising appeal from circa 1985 that involved us collecting them for charity but now charities – like Southampton's Gift of Sight appeal – seem to collect plastic ones instead.
Since they're just foil, they can be recycled along with other foil products – we can include it in our doorstep recycling.
But what about reuses?
(Photo by LHMike)
Related Categories
items
,
kitchen
,
packaging
Search for other related items