Bottle caps and corks – two requests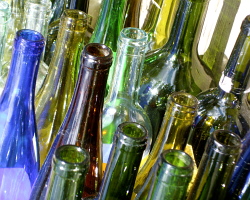 We've had two similar requests over the last couple of days so I thought I'd post them together.
First up, Alan wants bottle caps:
I make beautiful replicas of fine art (e.g. Matisse, Warhol) and logos from bottle caps: See my site at www.bottlecapartwork.com

Also, If you have caps, please email me at bottlecapartwork@gmail.com and I can get you some money for your trouble to send them to me. Paypal available.
And Laura's colleague Vicky wants wine corks:
On of my colleagues is looking for wine corks (real or synthetic) to use for her wedding. Have a look at her blog post here: http://adessi1010.blogspot.com/2010/09/what-corker.html and if you're interested in sending some of your corks please feel free to contact me via the comments or on email laura.coyne@adessi.co.uk
Contact the relevant person if you've got some to send along!
Related Categories
art & crafts using recycled stuff
,
household
,
packaging
Search for other related items