How can I reuse or recycle cloth/woven plastic rice sacks?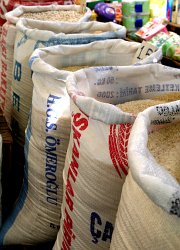 We've had an email from unsteadyocean:
I was just wondering if anyone has suggestions for reusing the cloth bags that bulk rice comes in? I've seen suggestions for making them into tote bags but I would love to get more ideas.
Around here, they tend to be plastic-coated cloth or just woven plastic – but either way, ripe for re-using.
So any suggestions?
(Photo by kirsche222)
Related Categories
items
,
kitchen
,
packaging
Search for other related items