How can I reuse or recycle … asthma inhalers?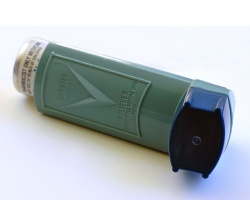 We've had another email from Am (who comments as Delusion), this time saying:
My partner is asthmatic and so goes through inhalers. It seems a waste to throw them out, I don't think there is much to be done with reusing them though I may be wrong.
Does anyone know of anywhere these could be returned for reuse? Even if it is only the plastic outer casing?
My first thought would be to ask the chemist to not include the plastic part with each refill – but if they get the complete inhaler from the pharmaceutical company already packaged up, they probably would end up just throwing them out from the shop. Does anyone know what the situation is with this?
And what about suggestions for reuse? Or recycling the individual bits?
(Photo by Jenny Rollo)
Related Categories
household
,
items
,
medical
,
packaging
Search for other related items