How can I reuse or recycle … undrinkable red wine?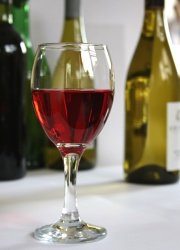 An email from Leah:
We recently did a buy five bottles get a sixth free thing at our local supermarket but two out of the four reds we've opened so far have been awful, undrinkable because they're so tart and vinegary.
We're dubious about the other two bottles now but don't want to waste them – or the two practically full bottles that we tried and hated. Are there any other uses for wine aside from getting sloshed or using it in food?
If they were white wine, I'd maybe suggest keeping them on hand to clean up red wine spills – since that's supposed to work – but I'm not sure about red. Dying fabric maybe?
Anyone else got any suggestions?
(Photo by woodsy)
Related Categories
food
,
household
,
items
Search for other related items