How can I reuse or recycle yellow hard hats?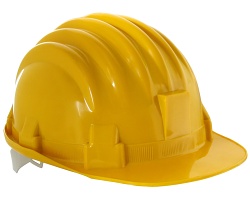 We've had an email from Christina Biggs, who works for the Wildlife Trust.
I have 27 hard top yellow helmets which are out of date and need replacing according to health and safety regulations.
I run a waste and recycling classroom so ideally I would like to keep some of these on site and turn them into recycled products, I have thought about hanging baskets. What can these be recycled into? Any suggestions?
I was going to say hanging baskets (with a hole drilled in the bottom for drainage) but Christina beat me to it. Given they're going to be pretty hard plastic, I don't know how much they can be modified but I wonder if they could be made into fun birdboxes or something. Any other suggestions?
(Photo by brokenarts)
Related Categories
garden
,
hobbies
,
items
Search for other related items