How can I reuse or recycle … energy saving lightbulbs and tubes?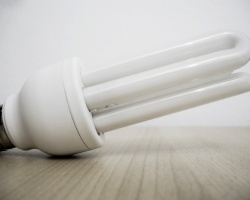 We've already looked at reuse ideas for old fashioned lightbulbs but what about recycling for the supposedly greener variety?
A friend of ours, Denyerec, has prodded me a couple of times about recycling energy saving light bulbs and tubes because he's got a growing pile of them:
I have a fear that the energy saving madness is going to be offset by the environmental damage caused by inevitably casually discarded tubes.
Whenever we're chatting about it, another friend always points out that they have to be disposed of carefully because of the mercury in all compact fluorescent lamps – but none of us have any particular idea of how to go about doing this.
Any ideas?
(Photo by vranarc)
Related Categories
household
,
items
,
technology
Search for other related items