How can I reuse or recycle … old smoke alarms?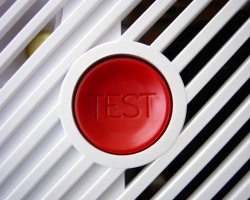 Had an email from Dave England asking: What do you do with smoke alarms that have low-level radiation sources in them?
He went on to explain that he'd heard that they should be replaced every ten years and his smoke alarms are now at least ten years old so he wants to know what he should do with them.
Ours are pretty new so we've not had this issue yet – but has anyone else come up against it?
According to Wikipedia, we're looking at "a tiny mass of radioactive americium-241" in smoke detectors that use ionization and while Americium is widely used, like other similar elements (Actinides), it can have an impact on the environment – but there are few guidelines for disposing of old smoke alarms.
So, does anyone know if (and how) can they be safely recycled? Or are there are any safe reuses?
(Photo by cancsajn)
Related Categories
household
,
items
Search for other related items