How can I reuse or recycle in-ear headphones?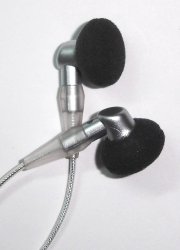 I can't stand anything in my ears but I have a few friends who love their music delivered right to their ear drums.
For one reason or another, they go through headphones like billy-o. Sometimes the wires break or get damaged and sometimes it's one or other of the ear pieces that goes – and given the amount of people using iPods and the like these days, thousands of pairs of broken headphones must end up on the rubbish tip each week.
So any suggestions for ways to recycle or reuse them? Is cannibalisation possible – taking working bits from a couple of pairs and sticking them together? And what about preventative measures to stop them breaking in the first place?
(Photo by ravuri_rp)
Related Categories
items
,
technology
Search for other related items