How can I reuse or recycle … upright toothpaste tubes?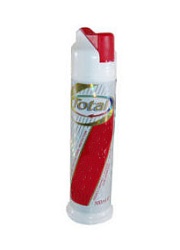 Every now and then, one of those upright toothpaste dispensing tubes makes it into our bathroom cabinet and when we reach the end of it, I stare at the solid plastic case and wonder if there is any way that it can be refilled, reused or recycled?
Does anyone know if the companies take them back at all?
Or if there are any other alternatives? It seems like it should be refillable with something or other (liquid soap?) but I'm not sure how I'd go about doing it – any ideas?
Related Categories
bathroom
,
items
,
packaging
Search for other related items