How can I reuse or recycle … old nail varnish?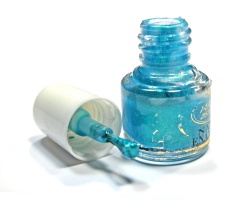 …And moving on from old paint, what about old nail varnish?
From the days when I actually used it, I've got quite a few half-bottles left over in all sorts of colours. Some of them have separated but recongeal with a quick shake, but I've only painted my nails once this year and can't see myself doing it again in a hurry (for both aesthetic reasons and for the sake of my nails) so they're pretty much redundant.
So what can I do with all the leftover nail polish? And what about the bottles with their little brushes – any reuses for those?
(Photo by tijmen)
Related Categories
bathroom
,
items
Search for other related items