How can I reuse or recycle … milk going sour?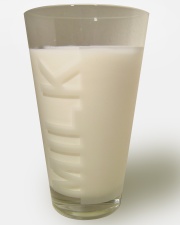 Some weeks, for example if we're in the mood for cereal, we use up all the milk pretty much the instant we buy it but other weeks, it sits there, only being used on the rare occasion that someone drinks a cup of black tea then eventually goes off.
So in those wasteful weeks, what can we do with it when it's on the turn? I mean, in the post-fresh, pre-cheese-ish stage.
Any ideas?
Related Categories
food
,
items
Search for other related items