How can I reuse or recycle old carpet?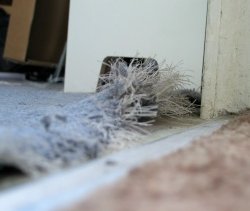 One of my projects for the summer is to redecorate the attic room – partly because we'll need an office up there soon but mostly because I've been intending to decorate it for the best part of six years now and it's getting beyond a joke.
Given the "yeah, I'll do it this year" attitude to decorating it for the past two-thirds of a decade, we've not been that careful on the carpet up there – it's covered in soot (from trips under the eaves), paint (from when I knocked over some tester pots when I was thinking of painting it a couple of years ago) and blobs of plaster (from the proposed decorating moment before that). And it's a impractically pale colour that was put in at least a few years before I moved into the house.
So… a bit of future recycling planning because we haven't the room to store it – what can I do with an old, slightly manky carpet?

Best Suggestions
Reduce: If it still in good condition – or at least a sizeable part of it is in good condition, offer it on Freecycle to see if anyone else can use to carpet a smaller room.
Reuse: Carpet is a good insulator – use it around a compost heap to keep it warm in the winter (warmth helps the composting process) or on the floor of your greenhouse so plants don't get as cold in frosty weather.
Recycle: Depending on what the carpet is made from, you might be able to recycle it – contact your local recycling depot and ask.
See the comments below for more suggestions and ideas
Related Categories
household
,
items
Search for other related items