5 fantastic things to do with old cutlery/silverware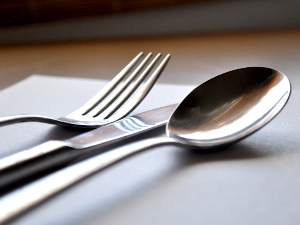 Last week's post about those little plastic spoons you get with children's medicine reminded me of all the great things you can do with old metal cutlery – not the finest family silver necessarily but the stuff that manages to find its way into your cutlery drawer (or conversely – the remains that are left after everything else leaves and you get a new set!).
1. Reuse them around the home
Our cats have a dedicated old fork for their food; I have an old dessert spoon with a handle bent up at 90° for skimming misc and oil from the top of sauces; and, I have an old tablespoon in with my laundry stuff for spooning in wash boosters.
In our tool kit, we have a fork which can be used for holding nails in place while hammering, a(n admittedly more flexible than most) old butter knife for smoothing filler and several old spoons for stirring filler, paint and whatnot.
What do you reuse them for around the home?
2. Reuse them around the garden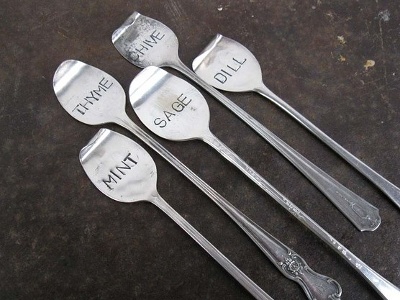 They're almost equally as useful in the garden too!
Forks are useful when transplanting seedlings – use them to lift the plant's tender new roots out of their starter tray – and can also be used to temporarily pin thin runners in place if you want, for example, strawberries, to spread in a certain direction.
Knives and spoons also make fun row markers or plant labels in pots. Some people (like dkshattuck, who made the ones above) sell ready made sets for herbs , stamped with the names or otherwise labelled so they'll last for years and years.
Do you use old cutlery in the garden? If so, what for?
3. Coat hooks and cupboard handles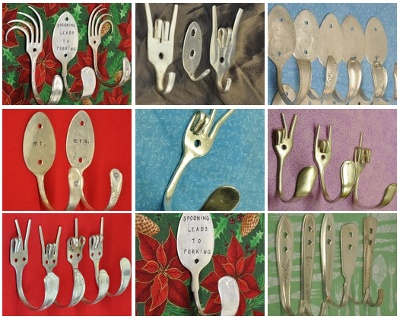 Sturdy cutlery can be bent into fun coat hooks or key hooks like those pictured above. They're by Jeremy and Jen Evensen, who sell via Etsy – such fun designs!

They can also be used to make fun kitchen cupboard handles – attached to the door either through the bowl of the spoon/fork or through the handle. And if you're doing that, why not make a couple more standalone hooks for fun curtain tiebacks?
4. Jewellery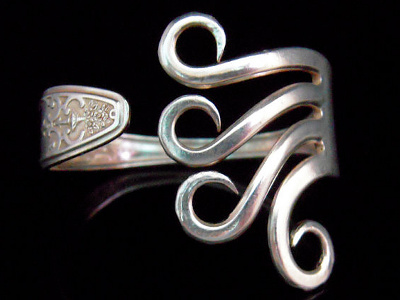 There is loads of gorgeous jewellery knocking around made from old knives, forks and spoons. At a most basic level, all you need is an old fork, some pliers and a few minutes, et voila! a fun and free bracelet.
At the other end of the scale, artisan crafty people are making some really lovely bracelets – the one above is by MarchelloArt and like that one, some bracelets still look like the original tool. Some other are a bit more dressed up and some, using just handles, don't look like cutlery at all – just lovely silver pieces for around the wrist or ">as a pendant for around the neck.
And if jewellery isn't your thing, they can be used for other accessories too – from money clips to tie pins.
5. Pass them on
While reusing is all well and good, don't forget about passing them on. Take them into your workplace or community centre to build up a stash in the kitchen to discourage people from using plastic cutlery.
Most charity/op/thrift shops will accept incomplete sets if you're just missing a couple of pieces and some, particularly those targeting very low income families/supplying homeless people or refugee populations, will accept random pieces, for people who just want single pieces. Some soup kitchens, food banks and local shelters also accept cutlery donations.
Failing that, keep them all yourself to use on those rare occasions when you suddenly need to feed 5000 – again, to save having to buy disposable plastic cutlery.
What are your favourite ways to reuse old cutlery/flatware? Do you have any other suggestions for how to pass it on?
Related Categories
5 fantastic reuses
,
art & crafts using recycled stuff
,
kitchen
,
recycled jewellery
Search for other related items