How can I reuse or recycle little pudding pots?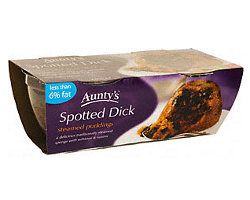 We've had an email from Debbie:
Any ideas what we can do with individual microwave pudding pots from the supermarket? They're plastic.
First up, as always, reduce if you can – I know those puddings are convenient but it doesn't take that much longer to make your own with a microwave (for example, a syrup pudding only takes about five minutes from scratch and there are plenty of "chocolate pudding in a mug" recipes out there). Or, if there is more than one of you puddinging and you *have* to buy one, getting a bigger single pudding instead of lots of little ones – the overall amount of packaging will be slightly less, and the bigger pot will be more reusable.
Bringing us neatly onto reuses: any suggestions? I suspect there will be considerable overlap with yoghurt pots – but the ones I've seen are a little more shapely than those so that may allow other reuses.
The little ones are fine as seedling starter pots (make holes in the bottom for drainage), or as little paint pots. They'd make dome-shaped jelly moulds for individual jellies – or for making your own microwave puddings! You could also cross the plant pot/dessert mould ideas over and make dirt puddings ;) Any other ideas?
As for actual recycling, does anyone know what number plastic they are? From a bit of Googling around, I think they'll be number 5, polypropylene – but I'll check next time I'm at the supermarket.
Related Categories
items
,
kitchen
,
packaging
Search for other related items