How can I reuse or recycle (or repair) broken terracotta plant pots?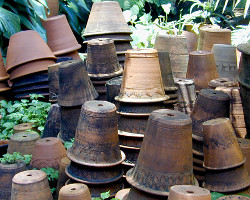 We've had an email from Natasha:
It seems a good number of my terracotta plant pots cracked in the cold over winter. What can I reuse them for?
Holding your horses, you may be able to repair them if it's just a relatively clean crack – this Instructable fixes a broken-in-half pot with epoxy resin, this how-to uses silicone sealant and wire, and this eHow also uses wire. Anyone got any fixing/mending advice?
Even it's beyond repair, don't discount it as still being useful as a planter – some people make very effective use of broken pots to create a shabby chic/Roman ruins feel for the garden.
If it's even beyond that though, broken up, it could still be useful in the garden – providing interesting/useful shade for aquatic life in a pond or as water draining crocks at the bottom of the new replacement plant pots.
(And don't forget to stop history repeating itself by protecting terracotta and the like over winter. From what I've read, pots fired to a higher temperature are more frost resistant too, so look out for "frost proof" pots too.)
Any other repair or reuse suggestions?
Related Categories
garden
,
items
Search for other related items