Plastic bottle creations, recycled robot plant pots, fairtrade paper beads & upcycled lightshades
Every now and then I realise I've had some great ideas & links sent to my email but not shared them with you yet – this is one of those times!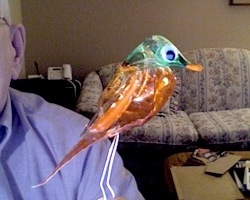 First up, Vernon got into touch to tell us about his plastic bottle creations. He says he's been making them for 15 years and sent me pictures of a wind twirler and a flower made from old bottles – but this bird was my favourite – such a fun character!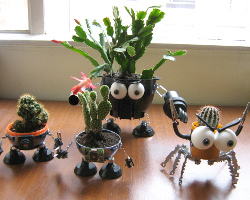 And speaking of creative characters, Mario Caicedo Lange sent us a link to his Flickr account featuring the "arts, props and crafts" he's made from recycled materials. He makes little robot style creatures – with many of his recent onesdoubling up as plant pots!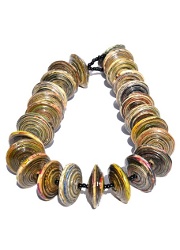 Next, Malcolm was in touch to tell us about Juzi jewellery – chunky beads made from recycled magazines by two self-supporting cooperatives in Kenya. Turning colourful magazines paper into beads is a fun way to recycle them yourself – but if you're not a crafty sort, then this seems a great way to get the look and help others at the same time.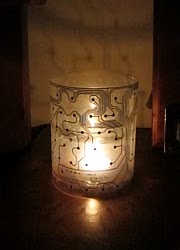 Agy on Green Issues Singaporeemailed to say she'd created two new lampshades – one from an old tshirt, the other from an old computer keyboard. Two very different looks but both fun!
Thanks for all the emails guys!
Related Categories
art & crafts using recycled stuff
,
recycled jewellery
Search for other related items