How can I reuse or recycle a broken plastic sledge?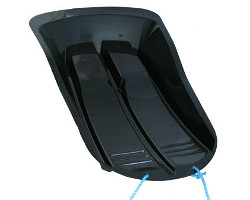 We were walking in the woods down the road the other day when we got a bit overexcited – there was a plastic sledge in the undergrowth under a holly bush! We're far too grown-up to buy a sledge for us to play with but a found one? weeeeeee!
When we pulled it out, we found why it was under there – the plastic runners had snapped off and there were just holes the length of the sledge in their place. Cue two disappointed faces. We left it where it was because we were on the outward swing of our walk and forgot to pick it up on the way back – but we might go pick it up again if we can thing of a good reuse for it.
The plastic looked too thin/brittle to warrant a repair job to be reused as a sledge but that doesn't mean it has to head for landfill.
The first reuse idea that springs to mind is the ubiquitous planter – I can always use new planters. The holes were only about 1cm across – some crocks or a bit of liner would stop the soil falling out but provide adequate drainage – but I'd be a little cautious about growing food in there because it's unlikely to be decent quality plastic and may leach all sorts of stuff into the soil.
What else could I do with it instead?
Related Categories
garden
,
household
,
items
,
sports
Search for other related items