How can I reuse or recycle conkers?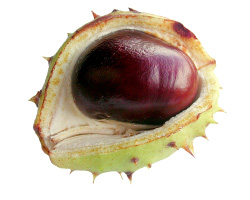 Well, this isn't so much as "reuse or recycle" question as saying "instead from leaving them there to rot, can conkers be used for anything fun or practical?" It is kinda a "reduce this" question too – can I reduce my use of something else by using conkers instead?
I picked up some conkers on a dog walk at the weekend – I couldn't help myself because fresh from their slick shells, they're a delight to touch – so shiny & smooth. Could they be used for decorative crafts? Any techniques for preserving the lustre?
Conkers are more correctly known as horse-chestnuts but they're a completely different species to sweet chestnuts and are actually poisonous. Apparently though that poison can be harnessed for good – bowls of conkers can be used to deter spiders & moths from moving into your home/wardrobe.
And of course, they can be used for playing conkers.
Anyone know of anything else that can be used for?
(Photo by fredb2)
Related Categories
garden
,
items
Search for other related items