How can I reuse or recycle silica gel crystal sachets?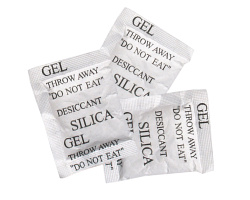 The other week when I asked how people make their home baked goods last longer, Dani suggested using little packets of silica gel crystals to a biscuit jar to draw the moisture away from the munchables. (I've heard rice can be used in the same way.)
Dani's comment got me thinking about other ways that those little sachets of silica gel could be reused. Dani gets hers from bottles of vitamins but they are often included with other things too – I've had them in shoes or leather bags/purses, or thrown in with deliveries of dried food items.
Care should be taken when reusing these pouches – because silica gel crystals can cause irritation to the repository and digestive tracts – but their moisture absorbing qualities are very useful: they can absorb up to 40% of its own weight in water vapour.
Looking around the web, people suggest using them to protect sensitive items from getting damp: important papers, seeds, camera/electronic equipment – even jewellery (the moisture adds to tarnish on silver). You can also use silica gel crystals to as cat litter – but I imagine you'd need a helluva lot of these little sachets to fill a tray.
What else can you do with them?
Related Categories
household
,
items
,
packaging
Search for other related items