What can I reuse or recycle to make small toys for kids?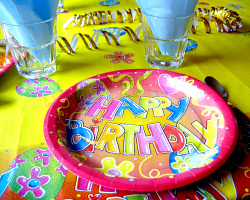 From making dog toys last week to kids toys this week… We've had an email from Petra:
Thank you for your very nice and useful site. You helped me before, but now I have a new (reverse) question:

In a few months, my youngest daughter becomes 3 years old. On her day care, it is common to give the other (little) children a small present or healthy treat.

I prefer to give a small present, especially when it is useful and they can play with it for quite a while. Last year, I made them little bags from foam that was left over from a party.

This year, again, I would like to make something for the children, preferable a nice little toy by recycling stuff. But I'm out of ideas.

Could you or your readers help me with some ideas? It should not take too much time to make, since I need to make 20 of them. And they should be safe for little ones as well.
I've not had a lot of experience of making gifts for children en masse so I'm going to have to ask other people to help out here… Any ideas?
One suggestion I would make – and one that might be better for slightly older children – is to take advantage of free child labour ;) Provide them with the materials to, say, make their own puppet or little creature and encourage/help them to put it together/customise it themselves. Any more age appropriate suggestions?
Related Categories
Christmas
,
reverse this
Search for other related items