What can I reuse or recycle to make cheesemaking moulds?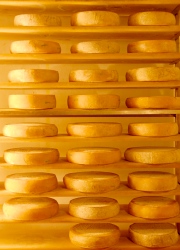 Apologies for not posting yesterday – I was away on an "introduction to cheesemaking" course over the weekend and too tired to type yesterday ;)
I've been making super-easy cheeses like paneer for a few years now but before I committed to anything that needed months of effort/ageing, I wanted to learn some core skills from someone who knows what they're doing. The course, through the Low Impact Living Initiative, was great for that and very very interesting – so now I have a burning desire to make all sorts of cheeses – and that requires moulds.
We saw a selection of stainless steel moulds and (food-grade) plastic ones – and someone else on the course mentioned they'd heard about moulds made from drainpipes. The course leader didn't exactly advocate that but said that in theory, it would be fine — just drill holes in the rigid sides, making sure the outside of the hole was wider than the inside, and that there was no jagged bits of plastic left on the inside or outside of the holes.
So that got me thinking: what else could cheese moulds be made from? Any food-grade plastic packaging perfect for reusing? Or do any other household/kitchen utensils lend themselves to being used as cheese moulds – either as they are or with a bit of modification? Because it's just for my consumption, I'm not bothered about them being pretty round cheeses.
If you make your own cheese, what do you use?
Related Categories
hobbies
,
household
,
kitchen
,
reverse this
Search for other related items