How can I reuse or recycle plastic coleslaw/potato salad tubs?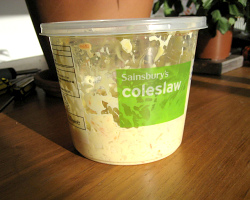 Between the good weather and the World Cup, every weekend recently has been barbeque-madness in the UK, which means the burger, salad and salad accompaniments shelves at the supermarket are stripped bare by 10am, just a solitary limp iceberg lettuce left behind to tell of the devastation.
Pre-packed prepared food like coleslaw, potato salad, bean salad or cous cous – and most salad bar tubs I've seen – come in plastic tubs with resealable lids, but the plastic tends to be a bit lightweight & flimsy – so not as ripe for reusing as they might be.
What do you use them for? They seem a little too flimsy to me to use as storage tubs in the kitchen – not rigid enough to clean properly.
Plant pots? Again, not the most stable plant pots in the world but a lot of starter modules/seedling pots tend to be a similar quality so they could be used for that.
Since they're often mostly transparent, they'd also be useful for storing little items like screws or beads.
Any other reuse suggestions?
There is also obviously a potential "reduce" angle here too – it's not hard to make these things. Unfortunately if you use mayonnaise or the like in the coleslaw/potato salad, it's advice not to freeze it because the mayo is likely to separate on thawing — but if you think ahead, you could freeze ideal-portion-size amounts of the shredded vegetables mixed together, or cooked potatoes – so then it's a doddle to made them when you need them: just defrost and add the mayo & any other seasonings. Or you can make special recipes for freezing – such as freezer slaw.
What are your favourite recipe ideas?
Related Categories
food
,
items
,
packaging
Search for other related items