How can I reuse or recycle aluminium foil/tin foil/silver foil?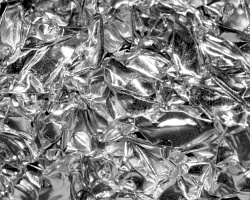 Every now and then I search for something on Recycle This and am floored when I find we've not covered it. The most recent example: tin foil.
We've talked about possibly recycling aluminium foil for charity and about related items such as easter egg/chocolate wrapping foil, foil trays for pet food or pies and tarts, even the serrated boxes that silver foil comes in but not silver foil itself. Crazy!
It's easy to reduce using it in the first place by swapping to using lids on tubs or bowls instead etc and reusable wrapping materials – and it's widely recycled too — most kerbside/community bins for tin cans accept foil too. But what about reuses for it?
I know a lot of people reuse clean bits of foil as new. Do you do that? If not, do you have other reuses for nearly-new foil?
What about for "dirty" foil – stuff with food baked onto it?
(Picture by pasukara76)
Related Categories
household
,
items
,
kitchen
,
packaging
Search for other related items