How can I use up/reuse snow?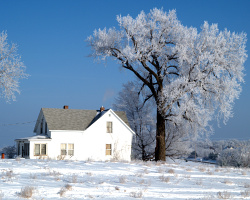 Teehee, a bit of a silly one – the white stuff does have a tendency to bring out the excitable child in me but it's kinda valid too…
For the last few days, we've a few inches of snow – as much as most of the UK ever gets really but since I grew up on a largely snow-free warm coast, I'm making the most of what we've got. It is, of course, an excellent entertainment source – snowballs, snowmen… I've also been watching it fall with lovestruck eyes, crunching about on it outside with glee and *repeatedly* commenting on how wonderful everywhere looks. Many many hours of free entertainment.
But what else is it good for? In rain-strapped places, it would probably be worth scooping it up from snow banks and putting it in a water barrel for its water content. You can also take advantage of its coolness – I remember when we were discussing saving energy someone said they pre-freeze items outside before putting them in the freezer, or turn their freezer off entirely, just using the big blue room and an insulator ice box for freezing stuff for a few days. Of course snow itself is a good insulator – is it possible to make a reverse hay box for freezing stuff and keeping it frozen?
Any other suggestions?
Related Categories
garden
,
items
Search for other related items