New feature! How can I repair this?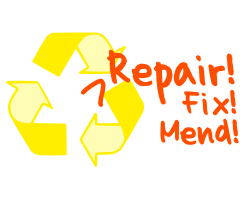 I've been thinking about doing a "Repair This" site for a couple of years now – more of a reference guide like Compost This than a discussion place – but for one reason or another, it's just not happened, and it occurred to me the other week that actually, it's really quite appropriate to have it on here anyway. So … new feature – "How can I repair this?"!
Repairing is, of course, an often forgotten part of the 3Rs but is really a core part of the "reduce" – if you fix something you've already got, you don't need to think of a reuse for the broken item or to recycle it, and you don't need to buy/acquire a replacement.
Obviously the nature of the repair depends on what's broken and how, but a surprising amount of things can be fixed in 15 minutes with a bit of thread/wire/duct tape or a new washer/drop of epoxy adhesive. Sometimes it's just really just a case of having the confidence to give it a try.
So, if you've got anything you'd like to repair but don't know where to start, drop me an email at repair@recyclethis.co.uk. Conversely, if you've fixed something really well or in an interesting way and want to show off your awesome handiwork, send me an email and I'll feature it on the site.
Anyway, first up, how can I repair leaking trainers/sneakers?
Related Categories
news
,
repair this
Search for other related items